Mainland High School
Daytona Beach, Fla.
Class of 1959
40th Reunion
Picture from the 1960 Buccaneer Annual, View from 3rd Ave. entrance.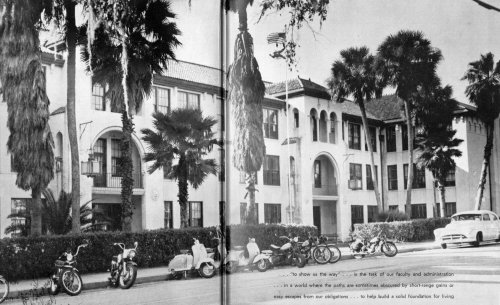 The Mainland graduation class of 59 held there 40th class reunion September 17th & 18th, 1999.
It was a success and there was talk about maybe having a 45 year reunion.
It was at the Radisson Resort, 640 North Atlantic Ave. in Daytona Beach, Fla.
Listed below is the missing students that we do not have an address for, If you are one of them or know of there whereabouts please email me at bill@wrmorganjr.com or Bob Nelson at LNelson316@aol.com so they can be put on the mailing list for the reunion.
Missing students
Lisa Jo Ann Anderson
Katherin Irene Barnes
Charlie Olson Bishop
Marilyn Burns
Barbara Jean Cannon
Charlyne May Castell
Michael J. Cochran
Judith Ann Cowart
Helen Johnston (Smith)
Charles Davis
Sheila F. Dauphinee
Joan Edgemon (Denson)
Bette Faulkner
John Fesmire
Mary Sylvia Foster
Rosa Pat Futch
Hoyt Grissom
Lawrence Stephen Haff (in Jacksonville)
Carey Hale
Thomas C. Harris
William Thomas Harris
Michaie Hench
Charles Wayne Hill
James Humphrey
Charlene June Hutchison
David A. Jones
Joseph Lawrence Lama (Tallahassee)
Judy Lewis
Robin Trevor Lewis
Kenneth Martin
Toby A. Mayfield
Patricia Meyer
Mary Jane Miller
Gail Garnsey (Moir)
Mary Francis Morone
Brenda Yuvette Newman
Mary Frances Owen (Spires)
Gayle Lynn Pearson
Beverly Roberts
Hill Thomas Roberts
Rodney Root
Larry Rowley
Connie Salter
Judith Ellen Schumaker
Albert E. Senkbeil
Joseph Leo Spencer Jr
Bill Stone
Saundra Lee Terry
Beverly Lynn Thomas
William M. Trantham
Robert Neal Tucker
Lyse Valence
Betty Walsh
Robert James Weiss
Carol Winkler
Carol Wirth
Nancy Ann Wright
Nell Young



Back To Main Page